My Summer Vacation
Recently, I wrote a post about our National Parks.  This is a follow-up post about the big family vacation I took at a park during the month of August.
We made it to Glacier National Park on Saturday, August 13th.  We were a little worried about crowds because this is our Nation's National Park's 100th birthday.  But that didn't stop us from being excited.  As we drove up to the place we were staying we, came across a family of wild turkeys.  There were 2 hens and 6 babies.  They were pretty shy and ran off before I could get many pictures.  But I was able to snap a few.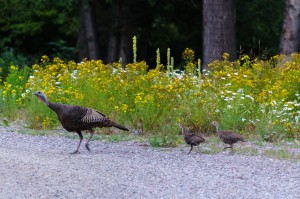 Glacier National Park is located near the upper left hand side of the state of Montana.  That's the Northwestern side of the state.  The park is around 1 million acres of land.  That's huge.  To give you an idea of the size think about our school.  It's approximately 3 acres.  There are several different varieties of plants and animals in the park.  Some of the animals can be very dangerous.  They're apex predators.  These include cougars, black bears and the most grizzly bears outside of the state of Alaska.  Glacier is known for the animals as well as it's unique environment.  One particular environmental feature that it's known for are glaciers.  Glaciers formed the park.  These are large bodies of ice that actually move.  Over time they have been melting.  The government surveys them every once in a while to see how many are left.  At this time there are 25 active glaciers in the park.  They say they will all be gone by 2030.  Do you know why?
With 1,000,000 acres in the park we weren't sure what to see.  We had to plan carefully to get the most out of our vacation.  I had to consider the location of where we would go in the park and find something to do that would work for everyone in the family.  The youngest in the group was 8.  The oldest was 70.  Also, we would only be able to drive through the park a few days.  So, I made a list of things we could do based on my research of Glacier.  As a result, I made an itinerary, or planned route.
Monday-I decided we should start early at Avalanche Lake. This is a short hike that was not too hard on the west side of the park.  When you're planning a hike for a group, you need to think about the length and the elevation you would gain.  Elevation gain is how much height you gain based on your starting point.  The hike is about 4.5 miles.  The elevation gain is about 700 feet.  Afterwards we would eat lunch and go to Logan Pass to check out the Visitor's Center and hike to Hidden Lake.  While were at the Visitor's Center we could chat with some Rangers and start the kids on the Junior Ranger Program.  The kids might even get in a Ranger talk.  This is a short class about a topic related to the park.  Going here would also give those that didn't want to hike other options.  They could shop at the Visitor's Center, or sit on a bench and keep an eye out for wildlife.  There are several animals that frequent the area.
Tuesday-We were going to be very tired from our hiking Monday.  I decided to make it an easy day.  We could hangout at a local beach in Whitefish, Montana.  Later, we would head to Bowman Lake on the North Fork road on the northwest side of the park.  The road is mostly gravel.  It's a bumpy ride, but well worth it.  This is a lake that is crystal clear and surrounded by thick forests and rugged mountains.  We could watch the evening light fade on the beach and headed to a place not too far from the lake for dinner.  It's called Polebridge.  It's a small town that doesn't even have regular power.  They have to use solar power.  It's a great place to eat dinner, play volleyball, or listen to music.
Wednesday-This would be the last big day in the park.  Today I thought we could should journey to the east side of the park.  We would travel to Two Medicine Lake.  At the lake we would hike along the South Shore trail for about 5 miles.  This would take us to the other end of the lake.  Afterwards we could swim in the mountain lake before packing up and heading back to base camp for the last night.  Another thing we would need on our hike was plenty of water.  We would need to pack at least 1 bottle per person.  Glacier can be pretty warm in August.
That's it.  We pretty much stuck to the plan, but need to come back for another visit.  The park has several miles of trails to explore.  Also, in some cases, depending on where you are, you can take a boat to the end of some lakes and start a hike from there.  You can even rent canoes and kayaks from Two medicine.  Near the Avalanche Lake trail you can go horse back riding.  There's just lots that you could do.  If you could, what park would you visit in the US?  What would you do?